January 2nd, 2014
As a district, we have been blessed with having Jennifer teach in our classrooms, observe our teaching, and give meaningful feedback to improve our practice.
In addition to utilizing mentor texts during the craft minilesson, I aim to try out other options:  co-teaching with a student, using response cards, and even collaborative writing to vary the experiences for students.  Sometimes, the texts that students imitate the most are the ones that current students have written.  When peers see their fellow student as a talented writer, a culture is built in the classroom:  one of safety, one of risk-taking, and one of inspiration.
Recently, as a class, students were immersed in writing formal editorials, ensuring that they were embedding a piece of reliable evidence while using sentence fluency, voice, and word choice.  After studying authors such as Chris Rose and Leonard Pitts via commentaries and editorials ("Ready Made Sandwich Just too Convenient" and "September 12, 2001:  We'll go forward from this moment"), we had not only looked at the ideas and organization of the pieces, but we had also focused on the sentence fluency, voice, and word choice appropriate to a commentary as opposed to an editorial.  We specifically looked at the two texts related to Common Core and analyzed these traits:
Style Comparison between a Commentary and an Editorial
Directions:  Read the following two excerpts.  Text-mark the two pieces for STYLE (well-written examples of Voice, Word Choice, and Sentence Fluency).  Then, complete the following graphic on the back, noting the difference between the commentary and the editorial.
Excerpt One: "DuBos: Jindal should stick to his guns on Common Core"
NEW ORLEANS — I knew it was too good to be true. In 2010, at the urging of conservative business and civic leaders, Louisiana adopted the Common Core education standards.
Now, Gov. Bobby Jindal and some lawmakers are sheepishly retreating from that bold step, because a vocal minority of educational knuckle-draggers is making noise about a federal takeover of local education.
Let's be clear: Common Core is a set of standards. It is not a federal curriculum. It raises the bar on what kids should learn. It does not prescribe what textbooks to use, or how to teach. It simply provides a uniform standard to measure academic achievement, so that parents can tell how their children stack up against kids from other states.
What's so bad about that?
Common Core continues to draw support from conservative business and civic leaders, like the Council for A Better Louisiana, and even some conservative politicians.
At one time, Jindal supported Common Core. Former Florida Governor Jeb Bush continues to support it — because he chooses to listen to facts, not hysteria. That's the difference between a leader and a wannabe.
Excerpt Two:  "The Common Core and the Common Good" By:  Charles M. Blow
America, we have a problem.
Any way you slice it, we're not where we want or need to be.
One strategy of changing our direction as a nation is the adoption of Common Core State Standards, meant to teach children the skills they need to be successful in college and careers — skills like critical thinking and deep analysis.
The Obama administration strongly supports the Common Core, and the American Federation of Teachers endorses it. The president of the United Federation of Teachers says that most teachers agree it should be implemented. And, according to CoreStandards.org, "45 states, the District of Columbia, four territories and the Department of Defense Education Activities have adopted the Common Core State Standards."
This seemed like a sure thing. The problem is that, in some states, Common Core testing has been implemented before teachers, or the public for that matter, have been instructed in how to teach students using the new standards.
This means that, when students score poorly on the more rigorous Common Core-based tests, it threatens to cause a backlash among parents, who increasingly see testing as the problem, not the solution.
That Phi Delta Kappa/Gallup poll also found that most Americans had not heard of the Common Core. Only 22 percent thought increased testing helped school performance, and most rejected the use of student test scores to evaluate teachers.
Directions: Using the chart below, write the differences you note between the commentary and the editorial.
Commentary

Editorial

Organization and Ideas

Stylistic Techniques

(Voice, Word Choice, Sentence Fluency)
Formatively, I assessed my students' use of three traits—sentence fluency, voice, and word choice—using the following rubric with their own commentaries or editorials (at the end of the article).
After grading these assessments, I had Tristan co-teach with me.  He simply read one of his paragraphs below that I projected on the Promethean board.  We then turned the co-teaching over to the class and asked that his peers point out "what worked" as far as the traits were concerned in his piece:
As the days keep ticking, the homicides keep increasing.  "From September of last year to February of this year," said Mayor Mitch Landrieu, "a student attending John McDonough high school in downtown New Orleans was more likely to be killed than a soldier in Afghanistan."  Now, that's a problem.  ~A paragraph from Tristan's editorial
The students pointed out his sentence fluency (varied beginnings such as "As"—beginning with a dependent marker word making this a complex sentence; this line is also an imitation from a local writer, Chris Rose, as well), voice (connecting to the reader with a reliable piece of evidence from our New Orleans' mayor as well as relating it to a soldier which pulls at our heart strings), and word choice (homicides, problem, and even using a literary device in the first line).
The use of mentor texts and comparison of mentor texts is beneficial, yet there is a spark that ignites when a student co-teaches.  Other students want to imitate the co-teacher so that they can become co-teachers as well.  Pride flourishes as students add the traits we asked of them all along.
Stacy Neighbors is an eighth grade ELA teacher at JB Martin Middle School, St. Charles Parish
leave a comment
August 7th, 2013
Dear Colleague,
Another fall is nearly upon us, and like you, I'm busy thinking about the upcoming school year and a few (or more) routines I'd like to do differently.
One of those changes is to publish articles, in my newsletter and on this blog, from contributors.   I will continue to write reflections, lessons, and tips.  But in addition, you will occasionally hear from teachers in the field reflecting on their practice and offering valuable insights.
Slam Dunk, the first contribution by Lisa Williams, is below.  Lisa is a special education teacher who believes, as I do, that all writing students benefit from a workshop approach. In this post, she reflects on the start of the new school year and how she can best create a strong (and safe) learning community.
If you would like to contribute to the newsletter, please contact me for submission guidelines.  I'd love to include your voice!
Happy writing,
Jennifer
Slam Dunk
My ten year old son sits next to me as we drive to basketball camp. The dread hangs in the air like a thick fog. He is frowning, and tells me that he is sure to embarrass himself in front of 25 or even 100 other kids. I'm trying to be positive and optimistic, but honestly, I'm feeling just as doubtful as he is. I am questioning the wisdom of my decision to enroll him in this summer camp. You see, my son is a nerd who comes from a long line of nerds. (The branches of his family tree include a physics teacher and computer programmer). And although I celebrate my own nerd-dom, I know that if he is to ever develop basic boy skills that will allow him to join in on a social game of basketball with friends or simply not embarrass himself in middle school PE, he must get out there and practice. As we close the distance between home and camp, I'm praying that there is an adult there who understands that this is more than just a summer camp for me and my son. Showing up and giving it our best is actually emotionally dangerous for both of us.
Driving home, I think that when school begins next month, I must remember how emotionally charged walking into my classroom will be for my students. They are in my class because they have historically struggled to become accomplished readers and writers. Like my son, they have wonderful strengths in other areas, but language development is an area in which they need support. So, although the beginning of school is something that I look forward to (after all, I'm an English nerd), for them I imagine they rode the bus to school surrounded by a thick fog of dread knowing that unless they encounter a caring and understanding teacher, they are likely to embarrass themselves in front of 25 other kids.
What can I do to create an environment that feels non-threatening for my students as the year begins? I have decided to open my workshop this year with poetry. Its length is manageable, and there are many resources that offer kids humorous opportunities to play with language. Last year, I used poems from Rolling in the Aisles by Bruce Lansky during our spring poetry unit, and my students really enjoyed giggling at the images created by the author. Not only did we look at the way the author used traditional literary devices to elicit images, but I always asked the kids, "Why is this funny?" They had to use some pretty sophisticated comprehension techniques to verbalize why this poem made them laugh. All the while, the kids didn't even realize they were working so hard! But most importantly, the atmosphere that the poems created was lighthearted and non-threatening.
Writing is hard work. And to ask kids who already know they won't measure up to expose their weaknesses in front of a classroom full of their peers can be terrifying and painful. I must look at the beginning of school through their eyes- an emotional minefield. I think that teaching the structure of Writer's Workshop with the use of short, humorous poems might just be the tool I need to entice my students to trust me enough to reveal their weaknesses. If it works, and my students agree to engage in Writer's Workshop with me this year, it will be a slam dunk.
Lisa Williams graduated from Louisiana State University with a Bachelor's Degree in Education and a Master's Degree in Social Work. She has taught English Language Arts for 16 years in both regular education and special education settings.  She is currently teaching 5th grade in Zachary, Louisiana.
leave a comment
June 13th, 2013
The following speech was given by Burgess LePage, an eighth grade English language arts teacher at STRIVE preparatory schools in Denver, Co.  No doubt this brave speech will inspire you as much as it did me, and most importantly, her students.
Good afternoon scholars, staff, and families.  I am enormously grateful for the opportunity to speak with all of you today.  Thank you, Class of 2021, for this chance.
As your writing teacher, when we started heading into the last few days of school, I began to think a lot about all of your stories. Since sixth grade, that's what we've done together in my class- shared our stories.  You shared your stories with me, I shared my stories with you, and you shared your stories with each other.  Just last night I was finishing up reading your personal essays, and at the end of reading all of them, I felt upset.  Your stories told me that so many of you have faced incredibly tough situations in your short lives.  And the weight of all of those stories was a lot for me to bear.  This is what it means to be a Writing teacher.
When I try to explain to people what it is like to teach Writing to middle schoolers, I often mention a book that you all read in 7th grade, The Giver.  As you may remember, The Giver takes place in a dystopian future, one where all the inhabitants of the rebuilt world can no longer feel pain.  All the pain is remembered by one only man, whose job it is to hold the memories.  The book tells the story of The Giver releasing all his memories, both painful and joyous, to Jonas, the protagonist.  Jonas, a boy who before meeting The Giver had never felt pain, asks about the life he is about to lead, holding all these memories.  The Giver explains to him, "The worst part of holding the memories is not the pain.  It's the loneliness of it.  Memories need to be shared."
Today it's my turn to share a memory with all of you.
A few months ago in class, I alluded to a story that had deeply affected me, one that also involved all of you in a way.  All that most of you know about this story is the title that I gave it, "Do They Even Try?"  Up until now, I've kept that story to myself, and I've been lonely with it.  Waiting for the time when I felt ready to share it.  Today, I feel ready to release this memory.
I was sitting on the porch of my beach house in Maine, the sun shining in my face and sparkling off the water.  All around me, adults were engaged in conversations about the past.  My dad had invited some of his friends who had all worked together as camp counselors when he was a young boy to come together for a reunion.  Many of these people had not seen one another for quite some time, and so it was a very happy occasion.  In particular, my dad was very eager to introduce me to a woman he had worked with at the camp and her husband.  This couple lived in Denver, and so he thought that perhaps I could make a new connection that I could bring back with me after this summer break.
We got to chatting, and soon, as most adult conversations do, they were asking me about what I do for work in Denver.
I told them that I was a teacher, and they were impressed.  I told them I taught middle school and they were even more impressed.  As you all know well, middle school kids can be kind of tough sometimes.
"Where is the school located?" the husband asked me, genuinely curious.
I began by explaining the location of our first campus, Federal, where I started working with STRIVE.  From there I would have talked about how our Federal campus had been successful enough that we had replicated around the city, and of course would have mentioned how beautiful the Lake campus is and how much I love my students and what I do.  That's what usually happens in these types of conversations.
But not on this day.  Here's how it really went:
"Federal and Jewell is where our first campus is located," I began, smiling at the couple with a dutiful politeness.  "And then—" I began, but stopped as I saw the look on this man's face, a look of astonishment and… I think I'd call it, pity.
"Wow," he said to follow up his look.  And then, he asked the question that will forever haunt me.  "Do they even TRY?"
For a split second, I was very, very confused.  All I had said so far were two street names, streets that cross one another.  Federal and Jewell.  So who was the "they" he was talking about?  Certainly not the streets.  Streets can't TRY.  And then, the truly horrible realization of what he meant passed through my brain in a tornado of uncontrollable rage.
He was talking about you.  This man had lived in Denver for all his life, so he knew well the streets and the neighborhoods.  And from just the mention of this part of town, he judged an entire group of students—Federal, Westwood, Highland, and Lake.  After knowing where the school was located, he wondered if students like this would try.
Now, I can't say out loud all the things that I wish I could have said in response to that question.  Words like "racist" and "elitist" and "ignorant" flew around in my head, accompanied by many words that would earn me a demerit if I said them aloud here.  I was so angry that I am positive I was sweating.  Do they even try?  Do they even try?  Do they even TRY?
Luckily for the husband, for my family, and probably for me, I didn't have to answer his question.  I think I tried to give him the benefit of the doubt and whispered, "What do you mean?", holding back tears.  And then the rest is honestly a blur.  I know that whatever he said next confirmed all my suspicions.  I just don't remember anymore because there are parts of this memory I've chosen to forget.
But here's what I won't forget.  The luck that saved me from tearing this man apart came to me in the form of a person: my mother.  You've all met my mother before, twice actually.  She came and visited when you were sixth graders, with Nana, and then she came again this year with my father.  My mom must have heard the conversation, watched my anger flood into my face, and known that I wouldn't be able to get out of this one with any dignity.
She swooped gently into the conversation, graceful as always.  "Actually," she said, "they are the hardest working students I've met in my entire life."
I was proud of my mother then.  Proud that she'd defend me.  Proud of her extreme grace with this horrible man.  Proud that she saw all of you for who you truly are.
And she's right, my mother.  You are all incredibly hard-working people.  Sure, there have been some bumps in the road with lower-than-we-wanted GPAs or crazy 7th grade drama, but you have always found a way to bounce back from those unstable times.  Equally true is that you all continue to try when things get hard.  You work to find solutions.  You practice until it's as close to perfect as it will get.  You teach other people what it means to try.
And, as I've read from your stories, you also know that it's not always easy to try.  When you try, you put yourself out there to be vulnerable, to be judged, to fail.
But you must try.
Try to get grades in High School that will give you limitless options.  Try to meet new people that challenge you and also accept you.  Try to change the statistics of what it means to be a college graduate in this country.
I have an incredible amount of faith in all of you, and although many of you might think it's funny to hear this, I am so glad that you are leaving.
You are finally ready to take the next step towards your futures, and the world is one step closer to having you take it by storm.  So get outta here, keep trying, and please, come back to share your new memories with all of us.
leave a comment
December 17th, 2012
Dear Teachers,
As our hearts ache for the community of Newtown, CT (and all of their loved ones), I want to acknowledge the heroic measures you will be taking to find the just-right words to reassure, the nods and smiles to comfort, the gentle acknowledgements of the need to process. Many children may turn to writing to work out their fears, grief, and concerns — especially since you've worked hard to create a safe community within your Writer's Workshop. Here are some tips that may help you when working with your young writers this week:
Don't limit topic choice. As teachers, it's extremely hard for us to process the incident at Sandy Hook, never mind the complex reactions of our students. We may, therefore, be tempted to give our students light prompts to keep strong emotions at bay. However, grief professionals agree that it's better to provide students a safe place to work out their feelings rather than denying them. Distraction is often a form of denial. (By the same token, do not ask that all of your students write about last week's event. Children process in different ways.)
Keep your Writer's Workshop going. Routine is extremely important in helping students to feel safe. When conferencing, handle tougher pieces in the same way that you would any other piece: mirror, point to what's working, question. In other words honor your students as writers, doing what writer's do: writing to make sense of our experiences and this world that we live in.
Don't be afraid to show your emotions. No doubt some children will write poignant pieces that will make you tear-up, perhaps even cry. It's not a bad thing to let a young writer witness the power of words. We write to have an effect on our reader, your tears are a natural, reinforcing effect.
If appropriate, suggest writing a letter to express compassion and/or a point of view. What we often need during times of crisis and grief is an opportunity to do something. Writing a letter or persuasion piece helps us to feel as if we acted for good.
Remember that our students will be ready to move on — perhaps at a far quicker pace than we expect. Young children are very "here and now," the topics will change, and we'll continue to support our students in handling all kinds of life/writing challenges.
leave a comment
June 6th, 2012
From my latest newsletter:
Dear Colleague,
I'll admit it. I'm excited about the Common Core. Why? Here are just a handful of reasons:
1. It's both developmental and demanding, honoring the abilities of children at each grade level, but requiring compositions that demonstrate a deeper understanding of craft and purpose.
2. It recognizes that writing is as important as reading, and that the two are interdependent. The very best way to ensure that your students meet the ambitious reading standards is to encourage them to read like writers. In other words, the more they write and think about writing, the better they'll be at analyzing texts. (And the more they analyze texts, the better writers they'll become.)
3. The CCSS support a Writer's Workshop model, recognizing that students need regular writing time, immediate feedback, and audience (author's chair and true publication).
4. With its emphasis on three styles of writing at every grade level, schools can determine which genres will be taught under each style, thus ensuring a balance between narrative and expository writing, a common language throughout the school, and a curriculum that builds from one year to the next.
Below are three ways you might prepare for implementation of the Core Curriculum writing standards this summer.
Happy Writing!
Jennifer
Preparing to Teach the Writing Standards
1. Examine the sample student writing in Appendix C of the CCSS. How do these samples compare to the writing your students accomplished this year? Record a list of skills students will need to achieve the level of success modeled in these samples. Explore units of study or mini-lessons that will help your students acquire these skills. (However, do not grasp for formulas. Teaching formulas creates formulaic writing, and students need a deeper, truer understanding of what makes fine writing in order to succeed with the Common Core.)
2. Compare the reading standards to the writing standards. Notice where there is overlap and explore ways in which you could help students to connect them. For example, how could you combine the teaching of this second grade reading standard:
RI.2.8. Describe how reasons support specific points the author makes in a text
With this second grade writing standard:
W.2.2. Write informative/explanatory texts in which [students] introduce a topic, use facts and definitions to develop points, and provide a concluding statement or section.
3. Search for mentor texts that will allow you to focus on these skills. One book I frequently recommend is Ice Bear: In the Steps of a Polar Bear by Nicola Davies. Davies writes, "No frost can steal a polar bear's heat," and then goes on to tell why with fascinating reasons/evidence. It's a wonderful read aloud and it inspires students to write informational pieces with more voice.
leave a comment
January 10th, 2012
From this week's newsletter:
Dear Colleagues,
I'm eager to try something new this year. From time to time, I will present student writing in this newsletter. I'll demonstrate one way I might respond to the writer in a conference, and then list mini-lessons designed to help this student (and others in the class with the same need).
I would love your feedback on this exercise. So, I'll post this newsletter on my blog. Feel free to comment on the direction you would have gone in the conference (there are always a number of different approaches), or offer additional ideas for mini-lessons. At the very least, let me know if this exercise is helpful to you.
Happy Writing!
Jennifer
Kaley's Writing:
Yesterday we went to the new Down Street Market. I didn't know there were so many cereals! Now I do. My favorite part of the store is the free samples.
My Response:
Reflect: Kaley, yesterday you went to the Down Street Market. You learned that there are lots of cereals, and you enjoyed the free samples.
Point to what the writer is doing well: Rather than simply telling the reader that the trip to the market was interesting, you gave us some specific details. (cereals, free samples) Well done!
Question to lead the writer to revision: Which part of your piece — the cereals or the samples — do you think the reader will want to hear more about?
The samples? What types of samples did you try? What did (the cheese, the gelato, the noodles) look like? How did they taste? Which were your favorites?
After Kaley revises, adding quality details (those that go beyond the obvious and general), she might expand the beginning about the cereals and transition into the samples . . . or I would support her decision to remove those two sentences (bits that don't belong).
Mini-Lessons on Expanding for Quality Details
Project student writing such as How Much I Know About Space from the Write Source website. (Do not use your own students' work.) Ask: Did this writer include quality details? Discuss the areas (planets, rockets, lessons) that could be expanded to create a far more interesting piece.
Share a piece you've written with your class. Include one sentence that arouses curiosity, but does not provide quality details. Ask, is there any part of my piece that you'd like to know more about? Share a revision the next day.
Remind students that it's the job of the writer to create a movie in the mind of a reader. Choose a mentor text that creates a visual picture. For example, In Clarice Bean, That's Me, Lauren Child doesn't write, "My Dad works at an office," and leave it at that. She writes:
He has a smart marbly office. It's wall to wall windows and office equipment. He has a swiveling chair and a desk the size of a bed. It's full of important business and you can only get to talk to him if Ms. Egglington buzzes you through.
leave a comment
April 7th, 2011
After a visit to High Bridge Elementary School in New Jersey, teacher Lucille Arnold shared this fifth-grade student essay with me (reprinted here with permission). I know you will be as impressed with Maddie's ability to articulate her love of writing as I was:
Maddie Kearney March 7, 2011
ILA Opinion Essay
To me, one written word is worth one thousand spoken words. In a story, every word is important, every detail matters. I love to write. To me, there is no better feeling than the words you can put on paper.
With writing, you can be so creative. There are endless possibilities with writing – there is no right answer. You can write about anything, because in writing, there are no limits. You could put a story out there with ideas no one has ever considered before. Even so, no one could write your story. You can be guided and helped, but no one can write what's on your mind, and that's what makes your story yours! Your story is only limited by your imagination.
Writing is wonderful because it gives you a chance to express your feelings. Just by writing something, I could change someone's mind. By expressing my opinions, I could put thoughts into a person's mind that they'd never thought about. If I feel something and I don't want to show it, I write about it. This calms me, and with my thoughts on paper, it helps me think straighter and more clearly.
If I can't say something, I can write it. There are some things I can't find words for or that I can't talk about. When words fail me, I just write. Something I could never say just flows out of me and onto paper.
To me, one written word is worth one thousand spoken words, and like a light in the darkness, guiding you along, writing helps me and guides me through the many obstacles of life. Writing helps me to find my own path through life, no matter how hard, and that's precisely why I love to write.
leave a comment
November 2nd, 2010
I have been thrilled to learn that two of my books have been chosen for One School, One Book programs (Andy Shane Hero at Last and the forthcoming Small as an Elephant)! I knew that my friend, author Jacqueline Davies, has had the opportunity to participate in these fabulous events and asked her to be a guest blogger this week. Here is what Jackie shared:
Jackie:
So far this year, I've visited five schools that have used my book,
The Lemonade War
, as part of a One School/One Read program. It's a great way to whip up enthusiasm for reading, foster community, and throw a party—all at the same time.
Here's how it works. The school chooses a middle-grade text that can work for the entire school
population. (
The Lemonade War
works well because it's an easy and engaging read-aloud for the primary grades, but it can hold the interest of kids as old as 6
th
grade.) In most of the schools I visited this fall, the title of the One School/One Read book was announced
with great fanfare
at an all-school assembly before summer vacation. There'd already been plenty of talk about the program leading up to the assembly, so the unveiling of the selected title had the feeling of an Academy-Award moment. For two of the schools, I provided personalized videos that introduced me to the students and conveyed how excited I was that they would be reading my book. These videos were played JumboTron-style on big screens for the whole school to see.
In most cases, the PTO or school provides books for everyone in the school—and I do mean everyone. The school secretary reads the book. The custodian reads the book. The lunch ladies read the book. Absolutely every student, administrator, faculty member, and support staff person reads the book. Can you imagine the excitement that builds around reading when every person in the school has read the same book? There are book discussions in the hallways, in the cafeteria, in the bathrooms. Everyone has something to say because everyone is an active participant in the event.
In and around the reading of the book are a host of cross-curricular activities—scavenger hunts, decorated bulletin boards, morning messages, art projects, skits, and daily quotations. Many schools have mounted their own Lemonade War, and thereby raised money for a local charity. The possibilities are endless when enthusiasm runs so high.
The culminating event is a visit from the author. When I walk into the lobby of a school that has used my book for a One School/One Read program, the response I get never varies: gasps of excitement, pointed fingers, "That's her! That's the author!" Never mind that it's just me; to these kids, I'm a rock star because in their community they've made me one. The power, of course, comes from the school itself. They've created the rock star moment by coming together as a community, by investing time and money in the program, by saying at every grade level Reading is so important, we're all going to do it together. The winners are the kids, who soak up the message and carry it as their own.
It's amazing what you can do when you harness the energy of an entire school.
leave a comment
November 1st, 2010
Welcome to your first day of the YesWriWith challenge! I hope you all feel proud of the words you recorded today!
Andrea, I can empathize with the challenge of fitting writer's workshop into a half-day kindergarten program. Do you have learning centers? If so, have children move through the writing center, drawing pictures and recording their words. Try to frequent the writing center as often as possible and always begin your stay by writing a sentence or two. Another option would be to begin each day with writing. Have journals out on the tables or student desks, and invite students to plunge into writing. (I know that writing would not always be preceded by a mini-lesson, but it might be one way to increase writing time.) Again, make sure your students see you writing, too. Those of you who teach half-days, do you have suggestions? Feel free to post them here.
Jill, I know it's hard to imagine that writing and conferencing can fit into a writing period. Write for the first five or ten minutes of your writer's workshop and then move into conferencing. Make sure you keep your conferences short and efficient. And let us know how it goes!
I'm eager to see excerpts from you own writing folder! Please feel free to share pieces here.
Kudos to all of you!
leave a comment
October 26th, 2010
Perhaps you have heard of NaNoWriMo. During National Novel Writing Month authors give themselves the challenge of writing a 175-page (50,000-word) novel by midnight, November 30. Many a writer has accomplished a first draft in this time.
I thought it would be fun to establish our own writing challenge in November. As we all know, writing and sharing our work with students has a profound effect on both the success of our writer's workshop, and on the skill level of our students. And yet it seems to be one of the hardest routines to set and keep.
So click on comment, and sign up for YesWriWith. In doing so, you will be committing to one month of writing each and every day with your students. (You get Thanksgiving and the following Friday off ;>.)
Then 1) Write to tell us how the experience has affected your program, or 2) Share something you wrote during Writer's Workshop, and be one of ten teachers who will receive a free hardcover children's book, professional book, or audio book written by me. Your choice. (If more than ten post, the ten will be chosen randomly.)
Those teachers who write for all 20 days and write to tell me, will be eligible to win an entire set of hardcover Andy Shane books.
I hope you'll take the challenge. And I hope lots of you will post regularly to build excitement and to encourage one another to keep on writing.
Good luck!
leave a comment
October 12th, 2010
Learning to write is as complex as learning to read or to understand mathematics. It requires a good deal of exposure to exemplars and practice, practice, practice.

Learning to write teaches us how to think. The stronger we become in our abilities to communicate a message in writing, the more we are able to communicate our thoughts, perceptions, and analysis in other forms and in other areas of learning.

The best writing teachers write. (Emails do not count.) They share both their writing and their thinking about process with their students. They understand the complexity of writing because they are experiencing it first-hand.

Writers need authentic audience throughout the writing process (and not simply when the piece has been completed.) It is near impossible to know what others need in terms of clarity and engagement without sharing our work with them.

Copying over work is not publishing.

Writing is best taught by showing students what they know, reinforcing what they are doing well, rather than simply pointing out what is missing.

Writers need choice of topics in order to identify the material and the focus that will serve them best. When writers are provided with choice and a regular writing time, they will write with more engagement, organization, and voice.

Learning to write takes time: time to think, time to experiment, time to revise. Without time, students tend to produce shallow products that show very little improvement (or understanding) from piece to piece.

Writers need to think like writers. If students ask, "How long does it need to be?" they are not identifying themselves as writers.

Writing, when taught well, boosts confidence. The writer's work is received respectfully and seriously; her voice is heard. Once a student has felt a modicum of success in writing, she knows that she can succeed in other areas of her life, too.
leave a comment
September 28th, 2010
Sometimes. But with writer's workshop we assess our students' application of skills on a daily basis. Here are some of the ways in which we assess:
1.
We plan interactive mini-lessons where students show us what they know
2.
We conduct daily writing conferences where we record anecdotal notes about our students' progress
3.
We save writing in folders and portfolios so progress can be observed and reported
4.
We examine sample writing or anchor papers with our students, thus determining what our students know and what skills we want to spend more time teaching
5.
We provide our students with rubrics and checklists so they can self-evaluate and build vision of success
One of my favorite quotes by Betty Hollas is: "Assessment is not the end of the writing process, it is the bridge to revision." With writer's workshop we develop a community of writers who are always striving to learn more, to create writing that exceeds expectations.
leave a comment
September 21st, 2010
This is a common question teachers ask when transitioning from traditional writing lessons to writer's workshop. Let's take a look at these two formats.
Traditionally teachers have had students write many products (all students writing on the same topic) and graded most of them. Or, over weeks, teachers take all their students through the stages of the writing process simultaneously, and grade the single product at the end.
But with writer's workshop we understand that:
1)
Students are given many opportunities for practice. Not every piece needs to be graded.
2)
Because students choose their own topics most of the time, they are at all different stages of the writing process.
3)
Some students will write many short pieces while others will work on the same piece for a substantial length of time. It doesn't matter – as long as each student is learning (and that means revising).
So how do we grade? You can do it one of two ways. As you end each unit of study (I organize my curriculum around six traits, but you might use genres, Lucy Calkin's units of study, or skills closely integrated with your reading instruction) ask students to choose their very best piece of writing and polish it for assessment. Let students know when you need one piece brought to completion.
Or, you can assess your students' progress and understanding of the skills you've taught by giving them a prompt on a specified assessment day. I prefer the former method as it allows for feedback and revision and this second model does not. (I know that this is how states assess students, but I opt for maximum instructional time in the classroom believing that this is what brings higher test scores.)
I know many administrators ask for long lists of graded products. This practice has likely come from the need to increase writing time (and instruction) in the classroom. The only way students learn how to write is to write. But, if you can convince your administrator that your students' time on task has increased greatly through a writer's workshop, perhaps the model for grading can be adjusted as well.
leave a comment
September 14th, 2010
I recently spent two days with teachers at the Lakehurst Elementary School in New Jersey. It was an intense and enormously rewarding time, and I'm looking forward to future visits. While there, teacher Kathy Bixby secured this nifty gadget for holding her writing center supplies (as you know, I have a passion for organizing/office supplies). It's a
5 Tier Hanging Mesh Storage Closet Organizer
. Can't you see it filled with tape and editing pencils?
leave a comment
August 16th, 2010
Last week Jodee wrote: " I have just read your book and am so excited to use your ideas in my classroom. I have been trying to find a way to do writing workshop that fit me and this is it!" She also had a number of specific questions about publishing student work. I suspect that others might have similar questions, so I'll post my answers. To read more about publishing go here. You can also preview the entire text of No More I'm Done online.
First, how do the students choose which stories to publish?
I usually suggest a student publish a piece that demonstrates growth and I try to be as specific as possible when giving my reasons for publishing: "Thomas, your piece has so many quality details. When you wrote that you "love the clunk, clunk, clunk sound of the dryer," and that you "hold the warm clothes up to your cheek," I felt as if I were at the Laundromat with you. Let's publish this piece!"
There are always a few eager students who wish to publish every piece they write. When these students ask, I respond with my own question: "With this new piece, how did you grow as a writer? What did you do differently this time?" Students come to understand that I am looking for ways in which they have stretched.
Of course, I work hard to ensure that each and every student publishes on a regular basis.
Do they publish every story that they write or only favorite ones?
No. With writer's workshop students understand that we do many, many practice pieces and only some of the written work will be published.
Also, do only published stories go into the monthly "Best Writing Book"?
No. In fact, I don't include published pieces — although you certainly could. In an evaluative conference, I have students choose one piece that represents their best work for that month (it might be the draft of something they published) and I glue it into the book. I suggest sharing the book during parent-teacher conferences and prefer to have the students' uncorrected written work.
When they do publish is it only one page or do you do a separate page for the beginning, middle, and end?
I don't separate beginning, middle, and end, but publish it as one flowing piece. Sometimes the piece is one page long, at other times it is published as a book and there is some text on many pages.
Do you let the students illustrate their published work?
Absolutely! If it is published on a single page (to go in the class binder) I have students draw images around the borders (as you might see with a magazine story). If it's published as a book, students illustrate every page. Often students have done some wonderful drawings as part of their prewriting and we choose to cut these out and use them as the final illustrations.
Do students only share completed work at the author's chair?
No. I want students to listen to the feedback they receive during Author's Chair and make changes to their work when appropriate. Often students think they're done, but discover that the audience has many questions about the clarity of the piece.
Do they sign up to share?
Yes. Three students sign up to share each day.
If they do sign up, what do you do for the students who will never share?
I look for something positive the student has demonstrated in her writing, and then I ask her to co-teach a mini-lesson with me. Together, the student and I share. I find that once a student has had a supportive, rewarding time in front of her classmates, she is apt to sign up for author's chair.
Once you've set the supportive tone in your classroom, you'll find that no one wants to be left out of this enthusiastic, helpful community of writers.
leave a comment
July 24th, 2010
I recently spent a week in Omaha, Nebraska conducting writing workshop inservices. The Omaha teachers were fabulous and had so much to offer! It was a high-energy, roll-up-our-sleeves week in which I was definitely both the teacher and the learner.
I was reminded of what a gift a two-day inservices can be. (I worked with teachers in grades 4-6 at the beginning of the week, primary teachers at the end.) One day of six traits or writer's workshop is an introduction. By the end of two days, however, I'm fairly convinced that teachers have the information and practice they need to make significant changes in their teaching. (Big thanks to Christina Warner for arranging the perfect schedule.)
With both groups, we took some time to examine our favorite picture books and identify ways in which they could be used as mentor texts. Fourth Grade teacher Holly Sobota offered to compile a list and she's given me permission to share this list with all of you. Thanks, Holly!
Ideas for how to use the text

Raising Mr. Yoder's Barn

By Jan Yolen

Word Choice, voice

Dinosaur Days

By Liza Baker

Organization, sentence fluency, voice (artistic voice)

The Hello, Goodbye Window

By Norton Juster

Voice, beginnings, endings

The Adventures of Spider

By Joyce Cooper Arkhurst

Word Choice, beginnings

Froggy Goes to School

By Jonathan London

Beginning, vivid verbs, onomatopoeia

Is There Really a Human Race?

By Jamie Lee Curtis

Endings, fluency, conventions

Queen of the Class

By Mary Engelbreit

Word Choice

That's Good, That's Bad

By Margery Cuyler

Organization-patterning Word Choice onomatopoeia, adjectives

Fortunately

By Remy Charlip

Organization-text and pictures (black/white) word choice, adverbs, prediction

Falling for Rapunzel

By Leah Wilcox

Word Choice, organization

Amelia Bedelia

By Peggy Parish

Organization: Order (first, then, next)

Word Choice: idioms

Once I Ate a Pie

By Katy Schneider

Personification

Earth: Feeling the Heat

By Brenda Z. Guiberson

Organization, vivid verbs, onomatopoeias

Beardream

By Will Hobbs

Voice, rule of 3, Native American-multicultural, beginning

Hooway for Wodney Wat

By Helen Lester

Word Choice (synonyms for talk), alliteration, strong verbs, pattern of 3

The Relatives Came

By Cynthia Rylant

Organization, "bookend" circular organization beginning and ending, symbolism, growing, ripening grapes represent the passage of time, descriptive writing, values, importance of the extended family

We're Going on a Bear Hunt

By Michael Rasen

Voice, onomatopoeia, Organization-circular writing

Woolbur by Leslie Helakoski

Voice, circular writing, word choice

Duck and Goose by Tad Hills

Conventions-dialogue, Point of View

Stand Tall Molly Melon

By Patty Lovell

Organization-Repetition, circular, word choice, voice

Moosetache by Margie Palatine

Word Choice, Voice

Foodle by Patricia Pavelka

Voice, Word Choice, Conventions

Purple Hair? I Don't Care! By Dianne Young/Barbara Hartman

Organization-surprise ending, word choice, voice, quality details

The Great Fuzz Frenzy by Janet Stevens and Susan Stevens Grummel

Word Choice

Big Smelly Bear by Britta Teckentrup

Organization-Voice

The Crayon Box that Talked by Shane DeRolk

Voice, Conventions, Free Verse Organization: Problem Solving

You are Special by Max Lucado

Organization-Rule of 3 Voice-character development

The Tortoise and the Hare by Janet Stevens

Organization-Rule of 3, Word Choice

It's Disgusting and We Ate It! By James Solheim

Word Choice, Voice

Take Me Out of the Bathtub

By Alan Katz

Voice, Word Choice, Sentence Fluency

Wiil Waal: A Somali Folktale by Kathleen Moriarty

Ideas, Organization

A Camping Spree with Mr. Magee By Chris Van Dusen

Word Choice, Sentence Fluency

The Velveteen Rabbit by Margery Williams

Organization-Time Order

Lighthouse Family Series: The Whale by Cynthia Relliant

Voice
leave a comment
June 28th, 2010
I am posting my article about Writing Centers from my weekly primary newsletter in hopes that you will share your list! What works well for you? (scroll down)
Dear Colleague,
When considering what to post this week, I stumbled upon a wonderful article by Gayle Robe
rt that encourages us to examine classroom spaces.
The article inspired me to think again about writing centers – an inviting place where all the luscious writing supplies are stored within students' reach. Here is my thinking and a list of the items in my center.
(If you need an explanation for any of the items on my list, you'll find it in chapter 2 of my book No More I'm Done which you can read online.)
Happy writing!
Jennifer
Writing Center
For a time, I secretly feared that the real purpose of the writing center was to indulge my love of office supplies. (Many of you have heard me say that I'm drawn to Staples the way other women are to shoe stores.) However, letting go of control of supplies helps your students behave independently and frees you to teach writing. After years of working in classrooms other than my own, I do believe having a supply center is essential to a well-oiled workshop.
The writing center can be a permanent or mobile area in the classroom. I've seen writing materials rolled in on carts during writing time, or contained in shoe-pocket organizers that are prominently hung when needed.
Here are the supplies I store in my writing center. I've divided my list into two categories: items deemed mandatory and those that are optional.
Mandatory
ü Blank paper, story paper, notebook paper
ü Date stamp and ink pad
ü Pencils: standard and blue or green pencils for editing
ü Alphabet charts (may be on folders or adhered to desks)
ü Scissors and tape
ü Graphic organizers
ü Editor's checklists
ü Scrap paper and supply request forms
Optional
ü Stapler
ü Pens (often preferred over pencils)
ü Crayons, colored pencils, markers
ü Sticky notes
ü Baby name book
ü Children's magazines
ü Hole punch
ü Brad fasteners
ü Writing offices
Why a baby name book? If you have ever asked your students to complete a story map before composing, you know that primary students have a tendency to fill in the character section with names of their friends. There's usually a lot of hubbub as students show one another what they've recorded. (Think Valentine's Day without the sugar.) This can be particularly disruptive in second grade, where the ups and downs of transitory friendships are often the undercurrent of the day, and feelings are easily hurt. But even if there was not a concern of social issues trumping writing, the main problem from a writing instructor's point of view is that fiction that features one's young friends quickly stalls after the introduction. Once students have listed the primary characters, the plot goes nowhere. Why? Well, for one, it's very hard for any writer to use his or her imagination when the material is real flesh and blood. And perhaps, once the fun of selecting and listing the characters is over, the story itself loses energy.
So I tell students that as an author, I never use names of people I know in my fiction. In fact, I do quite the opposite. I turn to a baby name book to find truly unique names-names that are seldom heard and will come alive on the page. (My first picture book, A Net of Stars, features Etta, Harper, and Fiona-names seldom heard where I live in the Northeast.) I place a baby name book in the writing center and suggest they try this technique. It quickly becomes one of my most dog-eared resources. (If you don't want to invest in a baby name book, bring in an outdated phone book, which provides first and last names.)
Adapted from the upcoming study gudie for No More "I'm Done!" Fostering Independent Writers in the Primary Grades by Jennifer Richard Jacobson
leave a comment
May 23rd, 2010
As promised, I want to share another lesson I presented at High Bridge Elementary. Lynn H. requested a lesson that would help her fourth graders write the middle of their stories or personal narratives. There are oodles of lessons for teaching beginnings and endings, but how do we guide students through the midsection?
As I told the students, I , like so many of us who write fiction, complain about the "murky middle." Leaving my beginning behind, I feel as if I've stepped into a swamp, and can only hope that somehow my words will get me to the other side. With sound advice from many talented writers, however, I've developed a fairly reliable navigational system. It doesn't stop me from occasionally losing my way (there are so many ways to veer in a wrong direction), but it has helped me gain some much needed forward motion.

What do I do? It's quite simple. I identify a question I want raised in the reader's mind. The middle continues to ask the question, but the tension (the desire to know the answer to the question) is ratcheted up. That question becomes my through line — keeping me on course.
I used one of my personal essays to model this technique. (Are you writing every day? Good! Then you have examples, too!) Here is the opening of my essay:
My son requested a single gift for Christmas. At seven, he knew the odds: ask for one thing — one thing only — and you're guaranteed to get it. His wish, scrawled in second grade handwriting, was a pocketknife.
The question raised: Will my son get the pocketknife? The essay goes on to describe the struggle between my values/fears and my son's desire for a jacknife, each paragraph increasing the tension. Here's one such paragraph:
"What is it with boys and knives?" I asked the L.L.Bean clerk. "A pocketknife isn't a weapon," he replied. "It's a tool." He proceeded to recommend just the knife for a child. It was small — tiny in fact. And the prominent gadget on this classic was a pair of scissors. Scissors that could be useful when applied to gum-foil, string and other stuff that boys carry in their pockets. Scissors that would allow this mother to give her son the tool he really wanted. Still, it had a blade.
After introducing this idea of raising a question in the reader's mind, we considered favorite stories. What question did the author raise? I also projected writing samples on the overhead, and again we discussed whether the author had effectively raised a question. We discussed how some authors, by raising a question in our mind, let us know why we're reading. They give us a purpose.
Lynn's fourth graders took this idea and ran with it. It was gratifying to conference with students who were so willing to embrace this technique. They wrote to thank me for helping them to "build their stories." However, I want to caution teachers against asking students to write to an inflexible formula. As fourth grade Claudia wrote:
Happy Writing!
leave a comment
May 13th, 2010
Last month I was back in High Bridge, NJ, one of my very favorite places to be, demonstrating writing lessons and student conferences in the classroom. Now here is a school (dedicated principal, talented and highly committed teachers, engaged students) that can't help but make me look good. Nevertheless, I will admit it, I am always nervous before modeling. The jitters are unavoidable: I'm working with students who are new to me, while being observed by half-a-dozen adults, and often conducting lessons (based on a teacher-requested topic) that I've never done before! But, perhaps not suprisingly, the greatest risks often bring the greatest rewards.
I want to share two experiences I had in High Bridge, but I will divide the posts. The first was with Kim T's pull-out class of nine third graders. Kim asked for a lesson on voice. I knew that voice can be a challenging trait for many eight and nine-year-olds, but especially for those who might have difficulty processing and/or articulating feelings.
I chose Jane Kurt's Rain Romp: Stomping Away a Grouchy Day as a mentor text. I read the book from beginning to end so students could enjoy the lively story. Then I asked students, as I reread the story, to stop me when they heard voice. I recorded the phrases they selected, and their conclusions regarding author's craft in a T-chart. For example:
Examples of Voice

How the Author Created Voice

"I Don't Feel Shiny"

"Dad hums a snazzy jazzy tune."

"'No way,' I said. Noooo Way."

Unique way of saying something, includes feeling

Shows enthusiasm

Expresses attitude
After, we had recorded a list of eight examples, I asked students to consider using some of these techniques as they wrote that day.
Here is what Jessica wrote (the spelling and correct conventions are mine):
Words that Make You Angry
I woke out of my bed. Angry words fell through my head. I jumped out of bed, saw words everywhere. They were feeling words. I felt angry. Really angry. I yelled, "Get out of my room!" The words straggled out with some toony sounds. I got my net to catch the words.
It continues for a page or two and end with: "All the words are gone for now."
Here are a few sentences of Nicholas's piece:
Once there is a Grandma. She is scared of everything: rabbis, food, trees. But she likes surgeries, and shots, and home. And shopping. She is scared of dogs.
Voice? You betcha! Oh, the power of the right mentor text!
leave a comment
April 20th, 2010
Next week, my second young adult novel will be out. I don't think there was any intention on my publisher's part to release this book during National Poetry Month, but it's apropro just the same. You see, Nola and her younger sister Song speak in a special language — the language of haiku. As Nola says, "For the longest time it's been our own code. Other kids speak in pig Latin, we speak in 5-7-5." When Nola spends the summer working at a resort in Maine (in part to escape the hardships of being the older sister of a chronically ill sister), she promises to send Song regular haikus:
Two new waitresses
Add four more who know their stuff
Trays bound to collide
There is a collision, but not between old and new. The eruption occurs between Nola and a girl who appears to be the best of friends . . . a girl who ends up going after everything that belongs to Nola. Everything.
I knew that I wanted to play with the form of haiku after reading the book: I Smell Something Foul: Haiku Expressions of Everyday Angst in which Alison Herschberg perfectly captures little agravations in a seventeen syllables:
Sunday night laundry
Twelve aparments one machine
Time to play dirty
or
The pressure's too high
I can't take it anymore
Where's my other sock?
What's going on in your life right now? Try encapsulating your feelings in haiku. I promise you'll find something very tidy and satisfying about the form. Post your haiku's here and I will award three random writers (pulled from a hat) one book of mine. Any book. Your choice.
Haikus must be posted by May 15. All ages may play.
A haiku contest
Sure hope someone plays the game
You are invited!
leave a comment
March 4th, 2010
I'm recently back from presenting a school inservice and an author day at the Kateri School in the Kahnawake Mohawk Reservation in Quebec. Second graders in Ms Fran's class created a stunning welcome banner — my first in the Mohawk language. I just have to share:
In other news, in my Monday Mini-Lesson Newsletter (February 22 — see all archived newsletters to the right) I stressed the importance of modeling writing for students. Danielle Hamblin, principal of the Central School in Great Meadows, NJ is keeping a blog documenting her training to prepare for a Grand Canyon hiking trip in support of Leukemia/Lymphoma. She forwards the blog to students in Great Meadows and Allachumy so they can assess her writing! (I know she's scoring well when it comes to quality details!) Check out Danielle's progress at:
http://pages.teamintraining.org/nj/gahike10/dhamblin
http://grandcanyonbound2010.blogspot.com/
And finally, author Toni Buzzeo has a new book out:
She's inviting students in grades PreK -6 to enter a writing contest based on the cover of her book, No T-Rex in the Library. You can read more about the contest (and possibly win a free half-hour Skype session with Toni Buzzeo!) here: www.Tonibuzzeo.com. Hurry, the deadline is Friday, March 12.
leave a comment
February 18th, 2010
Tomorrow is the publication date of No More "I'm Done!" and I couldn't be more excited. Thank you to all of who've written to express your anticipation.
This book explores the ways in which we teachers, with the very best of intentions, train our young students to become dependent rather than independent writers. Here is a chart I include in the book that pinpoints some of the ways:
Teacher selects writing prompt.

Teacher is "keeper of supplies" handing out paper and pencils.

Teacher "stretches out" words or provides the spelling of words.

Because writing is assigned, students brainstorm whatever comes to mind in ten minutes and then exclaim, "I'm done."

Writing lasts as long as a writing period or a journal page (or shorter!).

Students who are often minimally engaged in their work resist revision.

Students select writing topic.

Materials are available in the writing center.

Students know that by "recording the sounds they hear" they are teaching themselves to read and write.

Students often plan what they will write in the future, and consequently organize their thoughts in the space between one writer's workshop and the next.

Students often work on the same writing piece for many days.

In anticipation of conferences,

author's chair, the possibility of co-teaching a mini-lesson, students willingly revise.
Any thoughts, concerns, experiences? I'd love to hear them!
leave a comment
January 24th, 2010
I just learned the meaning of this word, decalogue, this week. First I stumbled across the website of NNWP Teacher Consultant, Corbett Harrison who provides wonderful mini-lessons to use with mentor texts. He recommends reading chapter four of Kate DiCamillo's Because of Winn Dixie, which contains a wonderful decalogue — a list of ten things the preacher tells Opal about her mother. Corbett writes: "On day one of class, I ask my students to create a list of 'Ten Things I Know about Myself as a Writer.' These first-day decalogues are placed safely in their portfolios, and during the last week of class, they make a new list on the same topic. A large percentage of my students' final grades depends on the conversation we have about the difference between their two lists."
This got me thinking of all the other fabulous decalogues we could ask our students to write. So here is my decalogue of writing decalogues (thanks, Mr. Harrison):
1. Ten things I know about myself as a writer
2. Ten things I'm passionate about (to spark writing ideas)
3. Ten spelling rules I always forget
4. Ten grammar rules I don't really understand (good feedback for providing appropriate mini-lessons)
5. Ten memories I wish to forget (but know I won't, so I might as well write about them)
6. Ten things I wish someone would say about my writing
7. Ten sentences I admire (keep an ongoing list in the reading folder)
8. Ten things my classmates don't know about me (and maybe I'll write about them)
9. Ten words I love
10.
What is number ten? Write in your ideas, I'd love to share them!
P.S. Monday Mini-Lessons for primary teachers are being archived. Click on the button to the right to see past newsletters.
leave a comment
January 11th, 2010
I received an email from a teacher this week who wrote:
I work with a great group of 2nd grade students who love to write. However, their spelling needs improvement. Do you have any suggestions?
Formal programs help students to see spelling patterns and to learn spelling rules and for this reason are invaluable (up to a certain age). But as we all know, the real challenge isn't getting kids to pass the Friday test, it's getting them to apply what they are learning about spelling to their writing.
It's tricky. We have to be careful not to put too much emphasis on correct spelling (especially when students are working on first drafts) or students will limit their word choice to words they know how to spell correctly. Risk taking is essential for fine writing and this means taking risks with spelling too.
It's also helpful to remember that the very best way to learn to spell is to approximate the spelling and then compare the misspelled word to the correctly spelled word. (There are simply more hooks then for remembering the correct spelling.)
So how do we help? Here is a list of suggestions to consider:
·
In addition to word walls, and including a frequently used word list in student folders (or adhered to the outside), keep a classroom computer open to a blank page in Microsoft Word. Students can type in their approximated spelling and then use spell check to choose the correct spelling.
·
Instead of circling errors on student work, place a dot at the beginning of the line that contains an error. (More than one error? Use more than one dot.) Students need to consult resources or friends to determine the error and correct it. This helps to place the responsibilty for correct spelling on them. Students will strive to have fewer dots placed on their writing.
·
Publish student writing on a regular basis, but please don't ask young children to copy over their work! This teaches them two things: write short and don't take risks. Instead, conduct an editing conference before publication: a time when you and the student focus on conventions. Here you can offer differentiated instruction which is far more effective than circling errors. Work with the student on two or three important skills. Then type up (or better yet, have a volunteer type up) the student's writing with all of the correct spellings.
·
Use an editor's checklist. Are your students constantly confusing their, there and they're? Ask that they double check the spelling of these words before coming to a writing conference or handing writing in.
I hope these suggestions are useful. I'd love to hear your ideas for helping students to think about spelling. And if you see a spelling error in this blog post, please let me know.
leave a comment
January 6th, 2010
Oh, how we embraced publishing students' work in the early years of writer's workshop! Many schools had a "publishing center" where parent volunteers came to type and bind student work. Covers were cardboard, decorated with wallpaper samples, held together with duct tape. Although the school where I taught did not have its own center, I painstakingly bound my students' books with dental floss so they'd last forever.
Dental floss eventually gave way to spiral binding machines, and all too many of these moved to the back of closets with the onset of NCLB.
And now, in 2010, I experience a mixture of both nostalgia and glee when these wallpaper books are recalled in blogs and interviews. Who is mentioning them? Published authors! Here are a few I've come across recently:
Jessica Brody
, author of adult and young adult novels, writes that she "knew from a young age that she wanted to be a writer. She started self 'publishing' her own books when she was seven years old, binding the pages together with cardboard, wallpaper samples and electrical tape."
Dorothy Thompson
editor-in-chief, CEO and founder of The Writer's Life Ezine and The Writer's Life Publications reports that she "began her writing career in the second grade when she made her first handmade book for a class project. From there, her passion for writing blossomed into a full-time career."
And
Chris DeBrie
, author of
Shakespeare Ashes
, writes: "And it all started with my illustrated book from the second grade, with wallpaper for a book cover and a crayon drawing pasted on front. The title was, "Forkhead", about a boy with fork-shaped ridges in his head. Forkhead and his best friend play some pranks around school. They trade some schoolyard snaps. Then they somehow become astronauts and camp on the moon in sleeping bags, with no space suits. I remember they stayed on the moon for 999 days, and the story ended there, so my guess is, they must have gone insane…
I hope these authors' second grade teachers realize the influence they've had.
leave a comment
January 1st, 2010
I have always loved January. I love the calmness after the holidays. I love that there are almost four solid weeks of non-interrupted teaching. I love that the month is all about setting and reaching personal goals.
Perhaps one of your goals this year was to launch (or more fully embrace) writer's workshop. If so, here's a checklist to use in evaluating your progress. Celebrate your successes as you identify areas you want to improve.
Your students:
Write every single day
Choose their own topics
Receive differentiated instruction during writing conferences
Examine sample (anchor) writing to develop a vision of success
Learn from mentor texts
Focus on one or two goals at a time
Benefit from the rewards of authentic audience
Revise
Are you pleased with your writer's workshop this year? I'd love to hear!
leave a comment
December 8th, 2009
It's been eight months since my last blog post. What happened?
Actually quite a bit. I wrote two books. One was a middle grade novel: Small as an Elephant, about an eleven-year-old boy who is abandoned in Acadia National Park and attempts to travel on his own back to Boston (forthcoming from Candlewick Press, spring 2011).
The other is a professional book titled
No More "I'm Done": Fostering Independent Writers in the Primary Classroom
(forthcoming from Stenhouse in February). I am so proud of this book! It's the compilation of twenty years of teaching writing. In addition to helping primary teachers establish a writer's workshop where students are motivated and engaged, it provides a full year of mini-lessons. Check out this cover:
Don't you love it?
The book has inspired me to send out a weekly newsletter:
Monday Mini-Lesson
. Beginning in January, I will provide writing lessons for teachers in grades K-3.
Email
if you'd like to be added to the
Monday Mini-Lesson
mailing list.
In other news, I have a new Andy Shane out:
Andy Shane and the Barn Sale Mystery
. I am so partial to this book. Andy mistakenly sells Granny Webb's binoculars and has to track them down. Here is one list he and Dolores comprises:
Can you guess who has them? This story is written in the tradition of O'Henry's Gift of the Magi.
And finally,
Winnie Dancing On Her Own
has won an
Earphone Award
from Audiofile Magazine! Read the whole review
here
. I listened to this recording on my way to pick up my son from the airport (two kids in college now, impossible!) and couldn't stop laughing – except when I was crying. It is a wonderfully produced; Laura Hamilton is truly an amazing reader.
Now that we're both caught up, I promise to blog more regularly.
Email me
! I'd love to hear what you've been up to as well.
leave a comment
April 9th, 2009
Those who have heard me speak know that I'm a huge proponent of audiobooks for children. So it is with enormous pleasure that I announce that the first two Andy Shane books are now out on audio by Live Oak Media. Check out the Kirkus review.
Why audiobooks? First and foremost, they're fun. Recorded books are read by professional actors and are produced with lively sound effects. (Wait to hear what Live Oak can do!) But there are many, many educational reasons for giving students plenty of access to audio books. Here are a few:

They:
Provide a read-aloud model
Introduce students to books above their reading level
Model fluency
Teach critical listening
Expose students to new vocabulary (and the pronunciation!)
Allow all students to be full members of a community of readers (and participate in flexible grouping)
Support struggling readers by helping them focus on meaning rather than the decoding of text
Increase students' writing fluency and voice
Foster a love of literature and reading.
Listening to story has an amazing effect on writing fluency. Most accomplished writers write "by ear." We know it's important to write sentences of varying length, to use a variety of sentence beginnings, to choose words that have vitality, because we hear good writing (whether it' recorded or simply the narrative voices in our heads) . Students who read and who are read to will always write with more fluency.
I recommend purchasing MP3 players for students' reading pleasure. They need not be iPods. In fact, it is still easier to download books on the less expensive players. (Many public libraries subscribe to a service that allows free downloads.) Listening to an MP3 player is cool and . . .so are books.

leave a comment
March 23rd, 2009
"Teaching voice is easier than I thought," a fourth grade teacher recently said after watching a modeled lesson. I knew exactly what he meant. Voice is the hardest trait to define, but even very young writers recognize it when they see it.
I introduce voice through art, and begin with picture books by Jan Brett. I show students several full-page spreads and ask them what they notice about her art. Here are some of the most common answers:
She incorporates lots of details.
Her work is framed – usually by borders.
She often paints animals and seems drawn to nature.
She provides little "windows" – glimpse of what has happened and what will happen.
I tell students that Jan Brett has a very distinctive artistic voice. That's what makes her work so instantly recognizable.
I then show them the work of Eric Carle and ask, "What can you tell me about his voice?" Students suggest:
His work is whimsical – more imaginary than realistic.

His shapes are large, bright, bold.

He does not include a realistic background – though sometimes fills the page with colorful shapes.

You can see his brush strokes in some of his work.
Eric Carle has an equally distinctive voice, but one that's very different from Jan Brett's. I then test students by holding up artwork by one of these two illustrators and asking, "Whose work is this?" They don't hesitate to identify the artist.
"These illustrators have their own artistic voices," I tell students. "You have a distinct writer's voice. If you are a bubbly person, chances are your writing voice is bubbly too. Or perhaps you're a fairly serious person in which case your writing voice might be serious. Voices can be humorous, angry, laid back – and there is a place in the writing world for all these voices."
I invite students to write with attention to voice – showing their unique style.
"Your voice is unique as your thumb print ," I tell them. "Put your thumbprint on this piece."
leave a comment
March 6th, 2009
Why do we write? To communicate, and communication requires audience. Without audience our desire to write and to improve our writing diminishes.
There are a number of ways we can offer audience in the classroom. We can invite students to participate in author's chair. We can project or read from their work during minilessons to illustrate craft. But one of the most successful ways of inspiring students to write and revise is to publish their work.
Contrary to what some believe, publishing is not copying one's work over for the student portfolio. We may imply that others will have access to their folders, will be able to read their work, but this is definitely not the audience students seek.
Nor is it advisable to publish all students simultaneously – not unless you have a truly authentic means of publishing: your class is creating a literary magazine, students are going to present their travel brochures to the state department of tourism, or you've invited another school to participate in a third grade poetry slam. Instead, it's better to publish individuals when they've done something truly exceptional. I usually watch for a breakthrough in revision.
Deb Bartlett, fourth grade teacher at Durham Elementary School in Maine, invites her students to create Podcasts. Her method is relatively simple: the students create a cover sheet, choose introductory music and sound effects if appropriate, and read their work into the computer. Deb photographs and uploads the cover.
Listen to her students' work.
No doubt computers are making publishing a far easier and more meaningful endeavor. Student work can be posted on your class website, emailed to administrators or other school professionals for their feedback, presented in PowerPoint presentations. I f you and your students do not have easy access to computers, check out the list below for other ideas. You'll find that nothing motivates your students to revise and edit more than knowing others will read or listen to their work.
Place in a class anthology (I use a 3-ring binder and page protectors. Students take turns bringing the "Big Book" home to share with their families.)
Include a few samples of student writing each week in the class newsletter
Have students read to younger students.
Post on website
Create podcasts
Record a class radio show
Perform as a skit
Read at an Authors' Tea
Compile a class book around a single theme (poems, funny stories, holiday stories, etc.)

Include in a class yearbook

Include in the school literary magazine
Submit to a student market or contest
Give as a gift
I'd love to hear ways in which your students have published!
leave a comment
February 15th, 2009
On Saturday, I participated in a "Kids Heart Authors" book signing at Children's Book Cellar in Waterville, Maine. Also present was Maria Padian signing her first YA novel, Brett McCarthy: Work in Progress, and author/illustrator Kevin Hawkes who read from his newest book: Chicken Cheeks (written by Michael Ian Black). Those of you who have seen me present know that I lean toward the mildly subversive picture book, and this one (which provides more names for animal buttocks than you could imagine) definitely fits the bill — no but about it. I can't wait to share this book with both students and teachers.
Children's Book Cellar is a truly magical place. What makes it so exceptional? Every inch of the warm, color-splashed store is filled with fabulous literature. I can't imagine any child (or any adult for that matter) resisting the charms of the books that line these walls. I wanted to leave with armfuls of new stories. Owner Ellen Richmond loves her job as children's literature aficionado and it shows.

Unfortunately, independent bookstores like the Children's Book Cellar are quickly becoming extinct – a trend that started before the recession and is tragically expedited by our reluctance to spend.
This week, remember the one book that changed your life. Perhaps it's a book from your childhood or teen years, perhaps it's a children's book that you adore and share with your students year after year. (Thank you Mrs. Burgess for reading The Witch of Blackbird Pond to me.) And then visit your independent bookseller and show your love. Buy just one more.

leave a comment
January 17th, 2009
So once you've introduced students to the pattern of three in literature, and they come to you regularly pointing out the pattern in the books they're reading, how do you help them to use this pattern in their own writing?
I introduce this graphic organizer from Reading Response for Fiction: Graphic Organizers & Mini-Lessons to help students plan their stories. However, don't make the mistake I've made countless times (I've been too quick to share this approach) – don't ask to students complete the graphic (which they do quite well) and then plunge into writing without modeling how to transfer the information.
Model the writing of a story, or at least part of a story, with students first. Otherwise, in their eagerness to follow the pattern they will revert to listing: Molly wanted a dog. First she tried a lemonade stand (ostensibly to earn money), but that didn't work. Next she tried . . .

Using the board or the overhead projector, complete the graphic with students. Then use what you've recorded in the first box and begin a story, taking the time to include quality details: Molly wanted a dog. She didn't know she wanted a dog until a mangy one, one with matted fur and paws two-sizes-too-big for its body, followed her for three blocks. She'd told the dog to go home, but he just sat there and tilted his head as if to say, "Are you sure?" That's when she knew they belonged together.

Even after you've modeled moving from the graphic to writing, one or two students will still list. If this happens let the students know they have successfully recorded "the bones of the story." Cut the five parts apart (intro, try, try, try, conclusion) and tape each part at the top of a new sheet of paper. Invite students to "add flesh" to the story by providing essential details.
Teach this pattern to your students and I promise you'll be exclaiming, "Wow! That was a good story!"

leave a comment
January 6th, 2009
Perhaps you think of it as a circular ending, but one favorite technique for ending pieces – particularly short pieces – is by having the ending reflect the beginning. Here are three of my favorite examples.
Wilfrid Gordon McDonald Partridge by Mem Fox
Beginning: There was once a small boy named Wilfrid Gordon McDonald Partridge and what's more he wasn't very old either.
Ending: And the two of the smiled and smiled because Miss Nancy's memory have been found by a small boy, who wasn't very old either.
Tacky the Penguin by Helen Lester
Beginning: There once lived a penguin. His home was a nice icy land he shared with his companions. His companions were named Goodly, Lovely, Angel, Neatly and Perfect. His name was Tacky. Tacky was an odd bird.
Ending: Goodly, Lovely, Angel, Neatly, and Perfect hugged Tacky. Tacky was an odd bird but a very nice bird to have around.
Miss Bridie Chose a Shovel by Leslie Connor
Beginning: She could have picked a chiming clock or a porcelain figurine, but Miss Bridie chose a shovel back in 1856.
Ending: She could have had a chiming clock or a porcelain figurine, but Miss Bridie chose a shovel back in 1856.
The reason, I believe these reflective beginnings and endings are so effective is that the reader is invited on a journey and then delivered home again. Here are three mini-lessons to help students become familiar with the concept of reflective endings.
Read the beginning and endings of several picture books in which the ending reflects the beginning. Ask students, "What do all of these beginnings and endings have in common?" Provide time for them to search for books in your classroom collection that demonstrate this technique.
Draw two bookends on the board. (I often find that students are unfamiliar with bookends. Review their purpose if necessary.) Write a beginning above the first bookend such as: "George Washington was our first president." Write a reflective ending above the second bookend: "Everyone agreed. Only George Washington could be our first president." Erase your model. Write a beginning above the first bookend. Challenge kids to come up with a reflective ending. After trying this a few times (and perhaps going in the reverse direction) invite kids to come up with both beginnings and reflective endings
Lori Jamison Rog in her book Marvelous Minilessons for Teaching Beginning Writing, K-3 calls these types of beginnings and endings "wrap-around endings". She writes, "A good ending is like a bow on a present — it wraps the piece up neatly," and suggests students choose two or three keywords from their lead sentence and use them in their concluding sentence. Model this technique (and your thinking) using a piece you have written.
Which mentor texts do you use to demonstrate reflective endings? Let's start a long list here.
leave a comment
December 30th, 2008
So, we've arrived at the topic of conclusions. Endings are hard. Let me say that again: ENDINGS ARE HARD!

Last week I wrote the ending of my newest middle grade novel. Observe the writer at work: she's fidgety, she's irritable, her brain feels incapable of functioning. She paces, she eats (no, not fruit and veggies), and if the ending she's writing is worth its salt, she cries (or at least tears-up). Why?
Because an ending doesn't just "wrap the story up," it has to give the reader a perfect "aaah" moment. A moment of insight, a moment to smile, a moment that's going to make the reader jump up from his or her chair and rush it into the hands of the next available reader.
So if professional writers have such difficulty with endings, how do we teach our students to master this craft?
First of all, I tell students the job of the ending. Most of us know that the job of a beginning is to grab the reader's attention and not let go. The job of the ending is to prompt the reader to feel, "I'm so glad I read this!"
With the pattern of three, I discussed in the last two posts there are two possible endings:
Either the reader gets what he wants, or
S/He changes his mind.
You'll find both of these endings in the literature in your classroom.

In the book Andy Shane and the Pumpkin Trick, Andy wants to trick the kids who are stealing Dolores Starbuckle's pumpkin and he succeeds!
In Andy Shane and the Queen of Egypt, Andy wants to be the only student to present Egypt during the school culture fair.
After much cajoling (and a little help) from Dolores, the QUEEN of Egypt, he changes his mind. Still, we writers need to add that extra beat – that "aaah" moment. How do we do this? I'll propose some ways in the next post.
I know, if I stuck to my original organizational plan, I would be wrapping up right now. Here's something to remember:
Outlines are just that – outlines. Writers inevitably need to revise, which often means veering outside the outline.
I have a really hard time with endings.

leave a comment
December 16th, 2008
Second Installment
Okay, so your students have come to recognize that, yes, story often begins with a character who wants something. Does this mean the character gets what he or she wants right off the bat? No way! (Not unless the character, like King Midas, is meant to learn to be careful of what one wishes.) No, typically the character:
Tries to get what he wants and fails. (That's right: failure is an important part of story.)
Again he tries to get what he wants. And you know what? Again he fails.
He musters all his resolve and . . .
It is often on the third try (or after the third failure) that a character gets what he wants – or changes his mind. Either of these endings can work.
Here is the pattern in my second picture book, Moon Sandwich Mom:
Rafferty is bored, and his mother is painting — again! So Rafferty runs away from home to find a new mother, one who is fun!
First he tries living with the Porcupines, but Mrs. Porcupine? She cuts sandwiches in half — the long way!
His mother cuts them in suns, and clouds, and moons . . .
So , he tries living with the Beavers instead.
But Mrs. Beaver doesn't read a book at rest time. She just watches her show on television!
You can see where this story is leading. Rafferty does try living with one more family — the raccoons, but that doesn't work out well, either. So what happens next?
He goes home of course. Where he and his mother have the most fun they've had all day:
As you can see, in this ending Rafferty changes his mind and it is the "just right" ending. Savvy readers will also notice that there were actually four tries in this story. That's true. Sometimes the pattern is:
Tries and fails
Tries and fails
Tries and fails
Tries and succeeds or changes mind
Success on the third try, or success after the third failure work equally well. Either pattern feels well-paced to the reader.
You have many books in your classrooms and libraries that follow this pattern. Here are some:
Bootsie Barker Bites by Barbara Bottner
Gator by Randy Cecil
Little Loon and Papa by Toni Buzzeo
Mrs. Toggle's Beautiful Blue Shoe by Robin Pulver
Virginnie's Hat by Dori Chaconas

Once you've demonstrated the pattern of three with your students, they will undoubtedly discover many more titles. Feel free to post your finds here!
leave a comment
December 9th, 2008
Allow me to model my writing process for a moment. Every time I begin a new piece, I ask myself two questions:
1. What do I want to write about?
2. How am I going to organize my writing?
Once I know the answer to these two questions, I can go confidently on my way. For example, I know that I want to write a blog entry on organization. But organization is WAY too big a topic. I need to focus. So I brainstorm. I could focus on:
• Helping students recognize scaffolding
• Strategies for teaching beginning, middle, and end
• Moving from story patterns to expository patterns
• The pattern of three
All of these topics appeal to me, but because I recently received an email inquiring about the pattern of three (Hi, Dave!) I will make this my focus.
Next question: How will I organize my piece? This is what I've decided. After a brief introduction, I will explain the pattern and how I teach it in the order of beginning, middle and end. I will add a conclusion sharing some success stories. (Mmm, it's beginning to look a lot like a five paragraph essay, but I certainly could have chosen a different pattern.) Because this is a blog, I will break the piece up into short installments. Here goes:
Introduction
There are many patterns of story and they come from varied cultural traditions. One of the most common patterns (often the pattern of folk and fairy tales) is the pattern of three. I teach students this pattern, while being careful to acknowledge it is ONE pattern and not by any means the ONLY pattern. I teach it because it helps students recognize the rhythm and pacing of story. It gives their stories a direction, suspense, and a satisfying ending. It helps students to move away from the typical "and then, and then, and then . . ." style of storytelling (which often ends abruptly when the writer has become bored with the topic) or the classic "bed to bed" story. Here is the pattern.
Beginning
In the beginning of most stories (whether they follow the pattern of three or not) is a character who wants something. So I ask my students to think of stories they have read or heard. I ask, "Who is the main character? What does the main character want?" Students adore answering these questions. The experience is akin, I believe, to getting the questions right on Jeopardy. Once they get going, they don't want to stop. Here are some possible answers:
Charlotte's Web: Wilbur wants to live
Chrysanthemum: Chrysanthemum wants to change her name
Stone Fox: Willy wants to win the race and save Grandfather's farm (and Grandfather)
The Great Gilly Hopkins: Gilly wants to live with her birth mother
Don't Let the Pigeon Drive the Bus: It says it all in the title.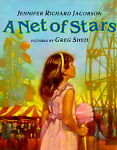 In my first book, A Net of Stars, Etta wants to brave enough to ride the Ferris wheel.
Story is about yearning. We keep turning the pages, because we become invested in the character's desire and want him or her to succeed. By simply knowing what their characters' want at the beginning of a story, students will write with more purpose and their stories will take on more shape.

You might post a list of some of the things literary characters strive for. Later, point out that they seldom strive for material things, but for the bigger things in life — acceptance, a home, companionship, adventure, or love.
End of first installment.
leave a comment
November 29th, 2008
Rose mentioned "Quiet Ten." Today, after the abundance of Thanksgiving (food, conversation, catching-up, laughter), Quiet Ten seems like a perfect topic.
What is Quiet Ten?
It's a technique I developed while teaching first grade that works beautifully for all ages. (Though in Kindergarten, it tends to be Quiet Five!) Basically, I ask that the first ten minutes of Writer's Workshop is silent.
Yes, truly. Silent.
Why?
One of the very best forms of prewriting is thinking. And yet, as teachers we are often uncomfortable with thinking. When our students are pondering (which looks like staring off into space), we jump in offering all sorts of unneeded assistance or pressure. But mulling is essential – essential for coming up with an effective topic, essential for organization, essential for sentence fluency. Without time to think, writing often reads as one long brainstorm on the page.
So the first ten minutes are quiet, giving all of us an optimum environment for thinking.
How does it happen?
Students tiptoe from the rug to the writing center, get their materials, and settle down to write. (Okay, I'll admit it. Sixth graders will NOT tiptoe.)
I put on some classical music to act as a trigger. A trigger? Our brain is remarkable. Given a predictable, repeated stimulus, it will provide the most appropriate action. Oh, says Brain. There's the Pachabel Cannon again, time to write!

What am I doing?
This is the most important part. I am sitting at a table, writing. Don't skip this part no matter what you do. If you don't sit down and write, you will be tempted to talk to a student or two. If you talk – even if you whisper – your students will too. So don't move around the room. Don't conference with students until the ten minutes is up.
Besides, writing along with your students is probably the single most effective way to inspire your students to write.

But my first graders need me!
Not as much as you think they do. Believe it or not, our tendency as primary teachers is to train our students to need us! By beginning with Quiet Ten you will be better able to build writing independence in your classroom. Here are some additional tips:
• Encourage primary students to draw before writing.
• Ask them to write the sounds they hear. (DO NOT SPELL WORDS FOR THEM.)
• If they must ask you something, they need to write a note. (This may be a string of random letters, but it is nevertheless necessary.)
Try Quite Ten in your classroom and tell us how it worked. And let's start a playlist. For those of you who are using Quite Ten, what's your music of choice?
leave a comment
November 19th, 2008
Time and time again, teachers tell me their students resist revision. Of course they do. Deep down all of us wish words flowed magically from our fingertips with no further work required. Unfortunately, it rarely works that way.

Here's what revision is not:
Copying over a draft by hand. If you ask your students to copy over their drafts, you are teaching them one simple thing: write short. You, too, would resist making additions if you knew you had to write each and every word (in your best penmanship) over again.

Here's what revision is:
An opportunity for celebration. And there are so many ways to do this. They are:
Modeling
I write with students and show them the changes I make on a regular basis. I talk to them, not simply as their teacher, but as a writing colleague. I share moments when I have struggled with revision – and let them know it was well worth it. One of the greatest forms of praise I offer students: "Ooooh. I wish I had written that!"
Co-teaching Minilessons
When I see some real attention paid to revision, I ask the student to co-teach the writing minilesson with me the following day. Together we show classmates how the work was improved by either adding detail, reorganizing information, removing unneeded text, or rewriting. Sometimes I put the before and after pieces on the overhead. There's always a lot of high fives for the student who is teaching at my side.
Author's Chair
Regularly sharing work with peers motivates us to do our very best work. There is nothing better than having fellow writers laugh at the right moments, hold their collective breath, or shoot their hands into the air to point out what we've done well.

Publishing
"May I publish this piece?" We've all had prolific students who want to publish every piece they write. But, I reserve publishing for those pieces that have been carefully revised. This means that not all students publish at the same time. (If so, I would be removing a major motivation. Why work hard when everyone's going to be published?)
These are just some of the components that help student to want to revise. In later posts, I'll address specific revision techniques.

Happy revising!
leave a comment
November 14th, 2008
I recently heard from Nancy, a teacher in Bangor, Maine, asking what types of resources I'd recommend attaching to fourth grade writing folders. Knowing that action brings energy to writing, I suggested she attach a list of lively verbs. It turns out that this is not an easy list to find.
So what to do? Certainly, Nancy could have her class brainstorm a list, but we all know that these initial or "cold attempts" often do not generate the inspired responses we'd hoped for. So I asked some children's authors to help me generate a list.
Dian Curtis Regan was the first to respond. She wrote: "When I was writing the Ghost Twins series I was working so fast, I created 'Regan's cheat sheet' for finding verbs quickly. I still use the list!" Some of the verbs on Dian's list:
flinch
wince
sprint
scramble
yank
spy
glare
rattle
creak
scoot
amble
swoop
whisk
canter
sneer
stammer
tug
scowl
flee
pout
I've actually used this technique with students. Have them select a topic and then list all the verbs they think they may use in their piece.
For example, Jo Stanbridge is currently writing about famous women aviators. She writes: "When you're writing a book about women pilots, you use the word swoop a lot. Also:
Zip
Zoom
Dive
Spin
Roll
Loop
Race
Speed
Plunge
Plummet,
and…uh…crash!
Looking for mentor texts? Water Hole Waiting by Jane and Christopher Kurtz is fabulous for demonstrating the power of verbs. Just listen to these lines:
Morning slinks onto the savanna and licks up the night shadows one by one.
Sun cartwheels slowly up the sky, herding hippopotami.
You might also look to Toni Buzzeo's books.
Little Loon and Papa includes these verbs:
quivers
wobbles
squeeze
tuck
zip
disappear
dips
tips
kick-kicks
And in Dawdle Duckling, she employs paired alliterative verbs:
dawdles and dreams
preens and plays
splashes and spins
dunks and dips
flaps and flutters
looks and leaps
And speaking of paired verbs, I couldn't leave off without mentioning my own book, Andy Shane and the Very Bossy Dolores Starbuckle. In this story, the kids in Andy's room have a ball:
Flipping and flopping
Twisting and turning
Wiggling and jiggling
Squiggling and giggling.
So inspire your students with some of these actions, and then challenge them to come up with a dynamic list of their own.
leave a comment
November 11th, 2008
Rather than giving students a steady stream of writing prompts, I believe they should be choosing their own topics at least 75% of the time.
I know. I hear your protests:
But our students are assessed with writing prompts!
They are, and so we are apt to follow this seemingly logical line of thinking: since high stake tests include a writing prompt, we should provide students with lots and lots of practice responding to prompts. But what I observe over and over again is that teaching students to write well on demand is not, in fact, teaching them to write well. It's better to teach students to write skillfully (which includes the ability to choose interesting, manageable, focused topics) and then teach them to apply what they know to prompts. Next protest:
My students hate it when I say they can write about anything they wish. They don't know what to write about!
Coming up with ideas for writing is a practice. The more we do it, the better we become. (Infrequent opportunities to choose a personal topic will be met with resistance.)
It's not surprising that the number one question professional writers are asked is: Where do you get your ideas? Ideas, to those who don't write regularly, seem to come from some magical place – or a teacher's guide. But writers – or students of writing – who know they are going to write regularly, and who know that they are responsible for choosing the topics, do become amazingly proficient.
Ideas begin to appear from all directions. Something funny happens at home and seven-year-old Nathan thinks, That's what I'm going to write about tomorrow. A classmate shares a piece about his dead gerbil and Nathan thinks, Ooooh, I have a dog story to tell. I'll write that next. Before you know it, Nathan has more topics than time to write. (That's why writers seldom appreciate it when another says, "I have a story you should write about . . ." We simply don't lack for ideas.) And one last protest:
My students don't have enough experience to draw from.
I'll be honest. This response simply doesn't make sense to me. All students have 365 days of experience a year. I know that not all students are visiting Disney World, but I once had a first grader write about the fence in her backyard. She told us that the police park at the fence to catch bad guys, and that her neighbors were angry because they thought it was her father who called the police. Now that's an experience worth writing about.
I will admit that the student who spends all of his time in front of the TV or a computer has more trouble coming up with topics. But what makes us think he will be any better at responding to random prompts such as: What would it feel like to be a worm on the end of a hook? (Hmmm, maybe he knows.)

leave a comment
November 6th, 2008
In Writer's Workshop, the teacher never hears these two dreaded words, because in WW, there is no such thing as being done. Why not?
During Writer's Workshop students are, simultaneously, at different stages of the writing process. They might be:
Prewriting (talking, drawing, webbing, completing a graphic organizer)
Writing (beginning a new piece or picking up where they left off yesterday)
Reading their work aloud
Conferencing (with you or peers)
Publishing (with a parent volunteer or a high school student)
It isn't long before students get the rhythm of the writing period and move smoothly from one stage to the next, but initially you may want to present a minilesson on:.
Things you can do if you think you're done:
Read your work to a friend
Read your work in a whisper phone
Sign up for a conference
Edit your work using your Editor's Checklist
Begin a new piece
Because students choose their own topics in Writer's Workshop, they often know what they want to write about next and plunge in. Everyone stays busy and focused until the end of the writing time. In fact, what most teachers hear at the end of writer's workshops are groans: "Can't we keep writing?"
leave a comment
November 4th, 2008
Should you provide the students with journals or writing folders that contain loose paper? After kindergarten, I am a strong proponent of folders. That's not to say that I don't use any journals: I love dialogue journals, response to literature journals and learning logs. However, during writing time, I prefer students to be working with loose paper. Here's why:
The length of a piece of writing should not be dictated by the duration of a writing period or by filling one journal page. Too often I hear kids say, "I'm done" when they've reached the bottom of a journal page.
Good revision techniques include cutting and taping, crossing out, and making substantial additions – all difficult to do when working with a journal.
Journals are too often perceived as "books." We tend not to ask students to make major changes to work they've recorded in book form.
Many teachers laminate resources: alphabet charts, frequently used word lists, and possible writing topics on the outside of their folders.
Thoughts?

leave a comment
October 30th, 2008
Today I spoke at the Conference for Tennessee First Grade Teachers and had a great time talking about writer's workshop. And as I told the teachers in my session, I used to believe that establishing a writing center in the classroom was simply an opportunity for me to indulge my love of office supplies, but I've come to understand that it is a key component in helping students to become independent writers.
Let me explain.
If we were to observe a traditional writing lesson (as opposed to a mini-lesson in writer's workshop), we would no doubt see a writing lesson, followed by directions for completing an assignment that applies to the lesson. The teacher would then arm herself with paper and begin moving around the classroom, handing it out to students:
"Mrs. Wendall," I don't have a pencil."
"What are we supposed to do again?"
"Do we need to put the date on the paper?"
The teacher responds as efficiently as she can, but nevertheless, the transition takes time. Lots of time. Those kids in the back of the room who are waiting for the teacher to arrive with paper (and are arguing over whose turn it will be to have the class mascot on their desk tomorrow) have long forgotten the lesson.
Rather than handing out paper, which makes you a distraction – an accomplice to the time-sink — consider allowing students (a few at once) to stop by the writing center, get their folders and anything else they need and settle into writing.
What will you do? You will write (yes you!) and then move into conferencing with students. Imagine no interruptions from students asking for another piece of paper.
So what's in the center?
To begin, writing folders along with an assortment of paper. So are spare pencils – and blue pencils for editing (real-world editors don't use red – they know those little red marks pierce the writer's heart). There is scotch tape and scissors for revising, graphic organizers for prewriting, a "Name Your Baby" book for choosing characters' names, and a date stamp and ink pad. (In my class it was the job of one student to move around the room and stamps students' work. More on this in a later blog entry.)
When we free up our role as "keeper of the supplies," students move through the workshop more independently.
What do you have in your writing center?

leave a comment
October 27th, 2008
Welcome to Growing Writers! I chose the blog title for several reasons. As teachers, we nurture the writing growth of our students. As students, we learn more about the writing process and consequently grow as teachers. And as fellow writers . . . well, hopefully we never stop growing.
I've had the opportunity to talk writing with so many fabulous teachers and librarians across the country and have longed for a way to continue the conversation. Perhaps this is the place — a place for us to examine both teaching practice and writing process, and to learn from one another.
So where to begin? I'd like to start with an examination of writer's workshop and how it differs from a more traditional writing approach. And because writer's workshop depends upon our students in working as independent writers, why don't we look at the structures of writer's workshop that help establish independence?
Next post: Creating a writing center (a place to offer materials as opposed to a learning center).

leave a comment