December 9th, 2008
Organization: Pattern of Three
Allow me to model my writing process for a moment. Every time I begin a new piece, I ask myself two questions:
1. What do I want to write about?
2. How am I going to organize my writing?
Once I know the answer to these two questions, I can go confidently on my way. For example, I know that I want to write a blog entry on organization. But organization is WAY too big a topic. I need to focus. So I brainstorm. I could focus on:
• Helping students recognize scaffolding
• Strategies for teaching beginning, middle, and end
• Moving from story patterns to expository patterns
• The pattern of three
All of these topics appeal to me, but because I recently received an email inquiring about the pattern of three (Hi, Dave!) I will make this my focus.
Next question: How will I organize my piece? This is what I've decided. After a brief introduction, I will explain the pattern and how I teach it in the order of beginning, middle and end. I will add a conclusion sharing some success stories. (Mmm, it's beginning to look a lot like a five paragraph essay, but I certainly could have chosen a different pattern.) Because this is a blog, I will break the piece up into short installments. Here goes:
Introduction
There are many patterns of story and they come from varied cultural traditions. One of the most common patterns (often the pattern of folk and fairy tales) is the pattern of three. I teach students this pattern, while being careful to acknowledge it is ONE pattern and not by any means the ONLY pattern. I teach it because it helps students recognize the rhythm and pacing of story. It gives their stories a direction, suspense, and a satisfying ending. It helps students to move away from the typical "and then, and then, and then . . ." style of storytelling (which often ends abruptly when the writer has become bored with the topic) or the classic "bed to bed" story. Here is the pattern.
Beginning
In the beginning of most stories (whether they follow the pattern of three or not) is a character who wants something. So I ask my students to think of stories they have read or heard. I ask, "Who is the main character? What does the main character want?" Students adore answering these questions. The experience is akin, I believe, to getting the questions right on Jeopardy. Once they get going, they don't want to stop. Here are some possible answers:
Charlotte's Web: Wilbur wants to live
Chrysanthemum: Chrysanthemum wants to change her name
Stone Fox: Willy wants to win the race and save Grandfather's farm (and Grandfather)
The Great Gilly Hopkins: Gilly wants to live with her birth mother
Don't Let the Pigeon Drive the Bus: It says it all in the title.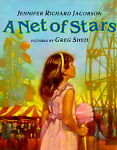 In my first book, A Net of Stars, Etta wants to brave enough to ride the Ferris wheel.
Story is about yearning. We keep turning the pages, because we become invested in the character's desire and want him or her to succeed. By simply knowing what their characters' want at the beginning of a story, students will write with more purpose and their stories will take on more shape.

You might post a list of some of the things literary characters strive for. Later, point out that they seldom strive for material things, but for the bigger things in life — acceptance, a home, companionship, adventure, or love.
End of first installment.
||